Do Treatments for Spider and Superficial Varicose Veins Work?
Spider veins and varicose veins might seem like cosmetic issues, but the cause is usually found in deeper blood vessels. If you choose a vein doctor who identifies the cause, and treats that as well, then varicose vein and spider vein treatment really work. The problem is some patients seek cosmetic repairs from dermatologists and estheticians, rather than seeing a vein specialist who uses ultrasound guidance to treat the underlying issue. Book a board certified vein doctor in New York for successful spider vein treatment.
Do I Need a Doctor to Remove Varicose Veins or Spider Veins?
Some patients can reduce certain varicose vein and spider vein symptoms by making lifestyle adjustments. But only a doctor can remove spider veins and varicose veins. Fortunately, vein removal is rarely a surgical process anymore. Vein doctors treat veins through the surface of the skin, so they technically eliminate them, not remove them.
The vein is closed off and reabsorbed by the body with a gentle, 15-30-minute procedure. So, is a vein doctor necessary to completely eliminate spider veins? Yes. Does spider vein treatment really work? Yes, as long as you choose a qualified vein doctor.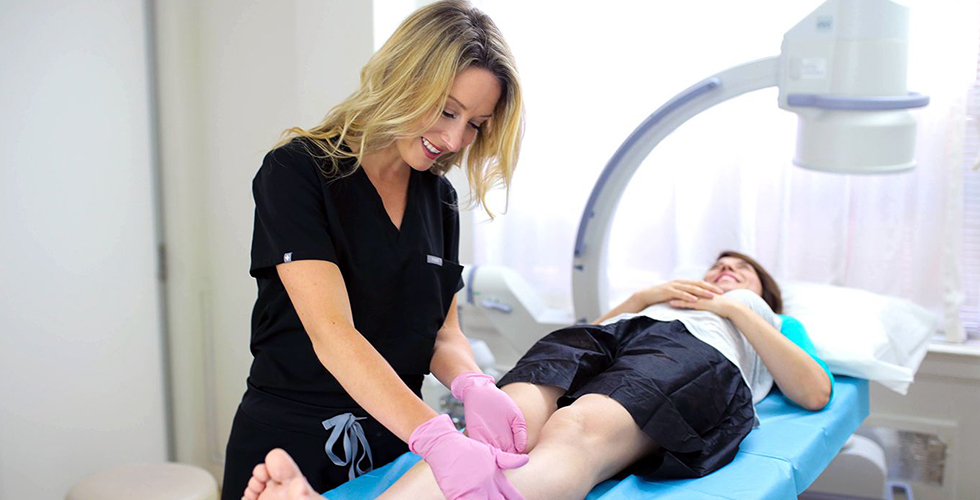 Varicose Veins vs Stretch Marks: Is Treatment Optional?
Spider veins, varicose veins, and stretch marks all impact our skin's appearance. But varicose and spider veins often stem from vein disease, whereas stretch marks are strictly a cosmetic issue. Stretch marks and spider veins can both cause discomfort and itching, but vein damage signifies issues with your vascular system, while stretch marks indicate rapid growth or weight gain.
Stretch marks tend to shrink and lighten over time. Vein damage tends to worsen over time.
So, treatment for stretch marks is always optional, and most doctors recommend applying moisturizers and letting them fade naturally. In contrast, problem veins often require medical treatment, particularly when vein disease, blood clots, venous ulcerations and heavy bleeding are involved.
Should I Get My Varicose Veins Treated with My Spider Veins?
If you have both varicose veins and spider veins, qualified vein specialists can treat both in a single appointment. Since both are signs of venous insufficiency, be sure to choose a minimally invasive vein doctor who looks for valve failure in deeper veins. Surface treatments won't correct vein disease or varicose veins and will only improve certain spider veins temporarily. Choose a vein treatment clinic that offers endovenous procedures like radiofrequency ablation and sclerosing therapy for long-term relief.
Is Sclerosing Therapy the Best Treatment for Spider Veins?
Is sclerosing therapy the best spider vein treatment? Most vein doctors say, "yes." It is non-surgical, and it does not require local or general anesthesia. Doctors inject a sclerosant into the vein to irritate the vein walls. This causes the vein walls to swell and seal shut, redirecting blood into healthy veins. Sclerotherapy takes less than 30 minutes, and you can resume your typical activities immediately.
Radiofrequency ablation is another great method to treat spider veins, especially if the patient is allergic to the sclerosant or has widespread vein damage. This treatment is also non-surgical, but it employs an injectable anesthetic to protect the tissue around the vein from radiofrequency. Like sclerosing therapy, radiofrequency ablation closes off the vein and reroutes blood, rather than surgically removing the vein from the body. Some vein clinics also recommend endovenous laser therapy, but our doctors find radiofrequency more comfortable than lasers for most patients.
Should I Look for Signs of Blood Clot After Vein Ablation?
Blood clots are exceptionally rare after minimally invasive vein treatments like endovenous laser or radiofrequency ablation and sclerosing therapy. They are more common after invasive vein surgeries like phlebectomy. If you're concerned about blood clots, or have a history of blood clots, talk to our caring vein doctors. We'll use ultrasound imaging to detect any existing clots and show you signs to look for, including an area that becomes hot, swollen, red, and crampy following your procedure.
Is Vein Surgery Recommended for Red, Blue, or Green Veins?
Vein surgery is not recommended for the vast majority of damaged veins. Newer technology has largely replaced surgical methods. Ask your vein specialist about ClariVein, Varithena, Asclera, VNUS Closure, VenaSeal, and other methods that treat the vein within the body. Cutting-edge catheters, needles, and fibers can now treat vein walls directly, so that most veins don't require surgical extraction. Look for a minimally invasive vein doctor, rather than a vascular surgeon. 
Will I Have Pain Years After Varicose Vein Surgery?
Patients who have pain for years after varicose vein surgery likely suffered a complication. Nerve damage, blood clots, infection, scar tissue, and other problems are possible with varicose vein surgery. But most patients don't require surgery for varicose veins, and spider veins don't require surgery. So, don't delay getting a spider vein treated because you're concerned about pain. Minimally invasive spider vein treatment is remarkably gentle. There is a significantly higher risk of pain with untreated spider veins, than with treated ones.
When Are Blue Veins on Legs not Varicose or Spider Veins?
Not all colorful or large veins are varicose or spider veins. Varicose veins are twisted, protuberant, and larger than the surrounding veins, and they're often easier to see through the skin. Spider veins are smaller and don't protrude, and they typically form in clusters with a central origin point. Book an appointment at our award-winning vein treatment clinics to determine whether your veins require treatment.
Are Leg and Vein Doctor & Vein Treatment Clinic Reviews True?
Our accredited vein clinics were named Centers of Excellence, and our doctors are deemed Patient's Choice physicians and RealSelf Top Doctors. Our renowned vein specialists have 25+ years of experience, and each holds multiple board certifications. But you don't have to take our word for it. Check out our 5-star reviews on verified sites like Yelp and Google to see why patients love our New York vein treatment clinics. We have a proven track record, and we're among the select few veins clinics that are verified by the Intersocietal Accreditation Commission.
Where Does Spider Vein Treatment Really Work in NYC?
If you want successful treatment for spider veins, choose the vein specialists who lead the industry. Our Harvard-trained, world-renowned vein doctors set the standard that others follow. We offer the latest treatments in state-of-the-art vein clinics helmed by the best vein experts in New York. Visit us in Midtown, FiDi, North Shore, South Shore, or the Hamptons for the same level of unprecedented vein care.