EVLT Procedure in New York Vein Clinics
Endovenous Laser Ablation (EVLT): 

What is and How Does it Work?
Endovenous laser ablation (EVLT) is one of the most effective minimally invasive treatments for varicose veins and chronic venous insufficiency (vein disease). This is an in-office outpatient procedure performed under local anesthesia by a licensed vein specialist.
During the EVLT procedure, the vein doctor numbs the skin with local anesthesia and makes a small incision on the surface. The incision serves as an entry point for an endovenous laser that's guided into the diseased vein under ultrasound guidance. Once inside, the vein doctor surrounds the diseased vein with an anesthetic fluid to protect the surrounding tissues. Finally, the vein doctor delivers laser energy into the diseased vein's walls, which generates an inflammatory response and seals the vein shut. Over time, the diseased vein hardens and gets absorbed by the body, and the accumulated blood reroutes into healthier leg veins.
 The endovenous laser ablation procedure concludes within 30 to 45 minutes, following which you can resume your work and daily activities. Your leg will be wrapped in an ACE bandage for up to 48 hours, and you'll have to wear compression stockings for at least seven days. This is the ideal treatment for chronic venous insufficiency with a nearly perfect success rate.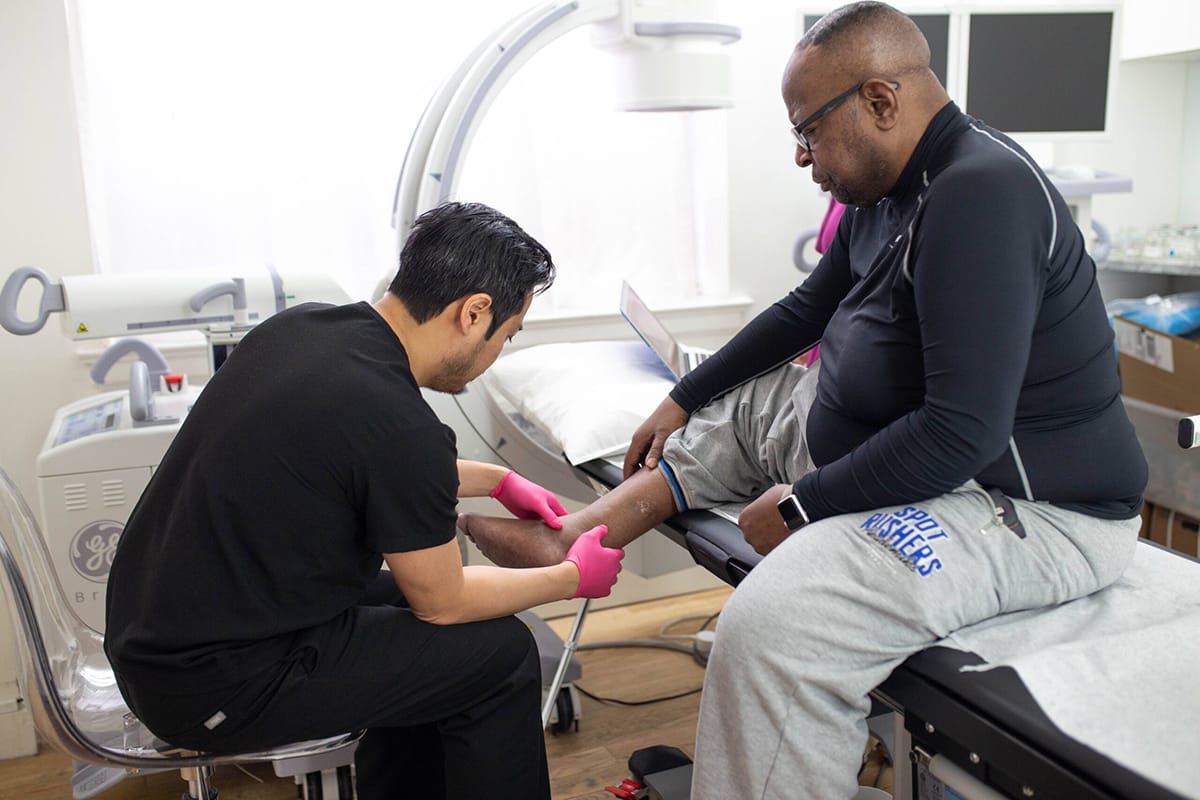 The EVLT procedure concludes in 30 to 60 minutes, depending on your specific condition. The EVLT procedure is suitable for everyone. Your vein doctor will carefully examine your leg veins, run diagnostic tests, and review your medical history to determine if you're a suitable candidate for the procedure. If so, the vein doctor will explain the procedure and answer your questions.


Endovenous laser ablation was first developed as a vein treatment in 2003. It was the world's first non-surgical, minimally-invasive alternative to traditional surgeries, such as vein stripping and vein ligation. Until EVLT, almost all vein surgeries involved excisions, hospitalization, and extended downtime.
Comparatively, EVLT only necessitates a small incision, no hospitalization, and the patient can resume their daily activities immediately. Furthermore, endovenous laser ablation also involves a lower risk of infections and deep vein thrombosis (blood clots) than surgeries. Long-term clinical research has also shown that endovenous laser ablation minimizes the risk of vein disease recurrence. As such, EVLT is superior to traditional surgeries in all aspects; it's safer, more effective, and more convenient.
Mild to moderate post-treatment discomfort.

Concludes within an hour.

No downtime or hospitalization.

No scars and marks.

No skin discoloration.
More uncomfortable than radiofrequency ablation.

Involves needles.

You must avoid strenuous workouts for a week.