Sclerotherapy
The procedure involves injecting a medicine called sclerosant into the affected spider veins. The sclerosant medicine makes the spider veins' walls fuse together, essentially sealing them shut. The accumulated blood flows into healthier leg veins, thereby restoring effective blood circulation to the heart.
The Sclerotherapy Procedure
Sclerotherapy is performed as an in-office outpatient procedure that concludes within 10 to 30 minutes, depending on the number of spider veins and varicose veins.
During the sclerotherapy procedure, the vein doctor raises the leg and carefully injects the sclerosant medicine into the spider veins and small varicose veins. Each affected vein receives one injection, so the total number of injections depends on the number of diseased veins. The sclerosant medicine induces a chemical reaction, making the veins' walls collapse and seal shut. Over time, the unhealthy veins turn into scar tissues that eventually get absorbed by the body. In a few weeks, the spider veins will fade away from the skin's surface. Meanwhile, the accumulated blood will reroute into healthier veins, restoring effective blood circulation.
After sclerotherapy, the vein doctor will apply pressure over the veins while standing up to prevent blood from pooling in the veins. You'll have to wear compression stockings for a few days to ensure optimal recovery, and you can resume your daily activities immediately.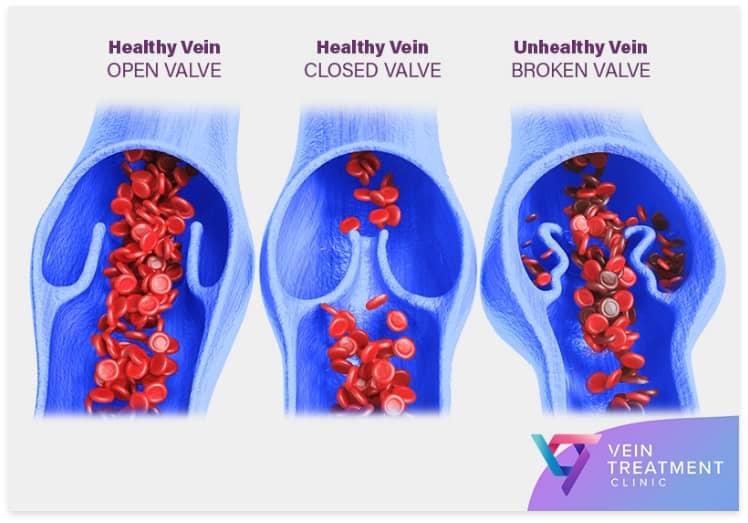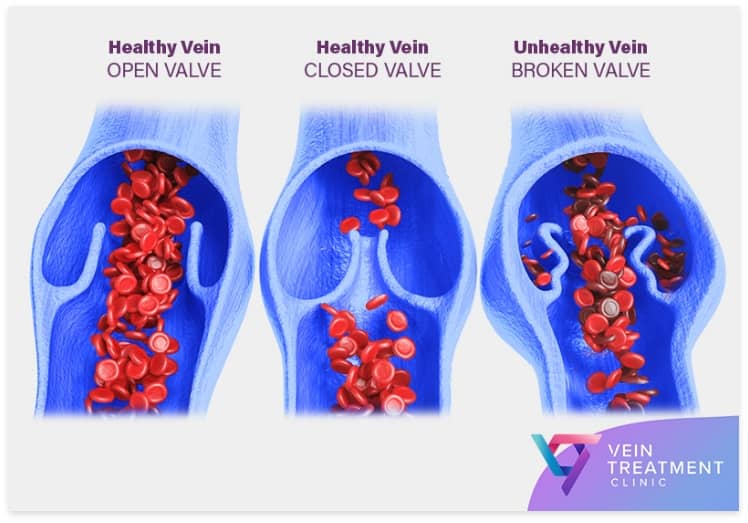 The Sclerotherapy Experience
When sclerosant is injected into your veins, you may experience mild aching, cramping, and burning sensations. The discomfort quickly dissipates within a few seconds of each injection. The procedure is nearly painless, and most patients describe it as comfortable.


What are the Advantages & Disadvantages of Sclerotherapy?
The Advantages of Sclerotherapy
According to the US Department of Health and Human Services (Office on Women's Health, sclerotherapy is an in-office procedure without anesthesia. That's the treatment's biggest advantage – it's a non-surgical, in-office, and outpatient treatment without incisions, anesthesia, or downtime. The treatment concludes within 30 minutes, following which you're free to resume your daily activities. There's no professional or social downtime. As such, sclerotherapy doesn't impact your life or daily schedule.
The Disadvantages of Sclerotherapy
Just like all other treatments, sclerotherapy also has potential drawbacks and limitations. The primary limitation is that it doesn't work for everyone. Sclerotherapy is generally recommended for patients with spider veins and small varicose veins. As such, if you have large varicose veins or underlying chronic venous insufficiency (vein disease), your vein doctor may recommend radiofrequency ablation, VenaSeal, or other minimally invasive procedures, either with or without sclerotherapy.
Please consult a vein doctor in New York who carefully examines your leg veins to recommend the ideal treatment for you.
Not sure if you're covered?
Try our FREE Health Insurance Coverage Checker by filling out this form: