What to Expect When Visiting a Vein Clinic for a Consultation
What to Bring: When you book an appointment for a consultation at a vein clinic, you'll provide them with your insurance details. That way, before your appointment, you'll know what fees to expect. For most patients, the initial vein consultation is free, especially if you're experiencing any symptoms with your veins which indicate treatment is necessary.
Bring any medications you currently take. This helps doctors determine the dosage and other inactive ingredients that might be important to know. In addition, bring your identification card, your insurance card, and a form of payment. You do not need to bring a companion to this appointment, unless you need or prefer one. 
What to Do: Create a list of your symptoms and how long you've noticed them. Many symptoms like leg pain and swelling are linked to veins, without the patient realizing it. So, mention all symptoms, not just the ones that seem related to your abnormal veins. Include a list of any medications you take and any health issues or procedures you've had. In particular, it's important to tell the doctor about any other vein treatments you've tried.
It's also helpful to write down any questions you have for the doctor, so you don't forget to ask anything. Remember to record any answers the doctor gives you that you don't want to forget. Studies show that many patients forget instructions from their doctor, due to nerves that occur in medical settings. Our vein doctors provide a calming atmosphere and are eager to answer any questions, unlike other doctors who are always in a hurry.
What to Wear: Some patients will have treatment during their initial consultation, while others will schedule a subsequent treatment appointment. Either way, you should wear loose clothing so the vein doctor can easily see your veins. If you prefer, you can wear a medical gown. But for leg veins, this is rarely necessary. 
What to Eat or Drink: You can eat normally before a vein consultation. Hydrate well, in case the doctor wants to view your veins with ultrasound, since hydrated veins are easier to see. If advised to, avoid caffeine and diuretics for eight hours beforehand, so you're optimally hydrated.
What the Vein Doctor Will Do: Our vein doctors will conduct a physical examination and inquire about your medical history. They'll look at your veins through the surface of the skin. If needed, they'll conduct lab work or run ultrasound tests to analyze abnormal veins and the blood vessels that supply them.
These tests are quick and non-invasive, and they take less than 30 minutes. Afterward, the vein doctor will either discuss treatment options with you, or they will wait to recommend treatment until after viewing results of lab work that was performed. The entire process will likely take 15-30 minutes, then you'll be on your way!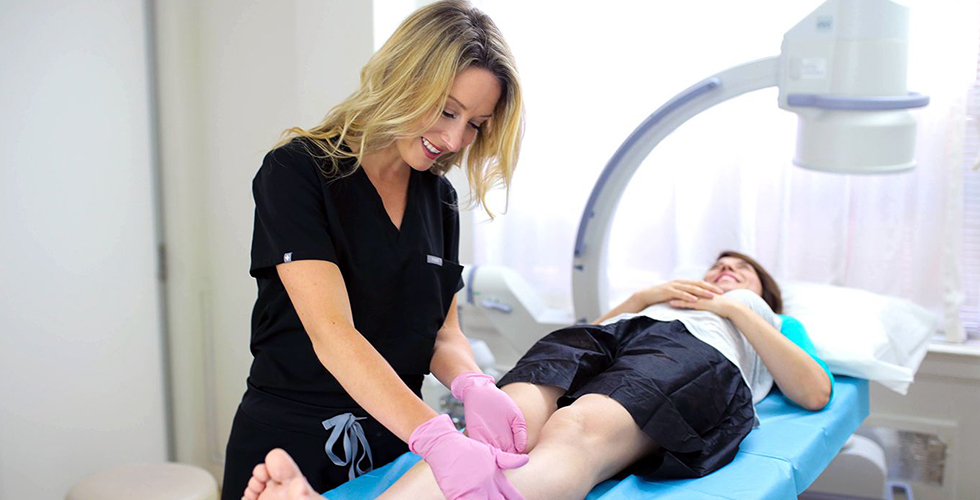 What to Expect When Visiting a Clinic for Vein Treatments
What to Bring: When you come for vein treatment, bring compression stockings if your doctor has already provided them, since you might need to wear them temporarily after the procedure. Also, bring your ID, insurance card, and any other medical information that's been requested of you. If you're having a vein surgery with general anesthesia, like phlebectomy, bring a companion to the appointment who can drive you home. 
What to Do: In preparation for vein treatment, make a list of any other questions you've thought of since your consultation. You can drive yourself to and from the appointment, if you're having a minimally invasive appointment. These include sclerotherapy, radiofrequency ablation, laser treatment, endovenous laser ablation, vein adhesives, and mechanochemical ablation. 
What to Wear: Wear loose fitting clothing so the doctor can easily guide a transducer over your skin, or insert a needle or catheter into your skin. If you're having vascular surgery, you might change out of your clothing, but loose fitting clothing is still advised, since it will be more comfortable to wear after surgery.
What to Eat or Drink: If you're having a minimally invasive vein treatment, you won't need general anesthesia. So, you can eat and drink normally. Hydrate well for 24 hours beforehand and avoid coffee and diuretics that day if your doctor asks you to. If you take medications, ask your doctor whether any of them, including blood thinners and non-steroidal anti-inflammatories, should be postponed until after treatment. If you're having vein surgery with general anesthesia, you may need to fast, so follow your vascular surgeon's directions closely for surgical procedures.
What the Vein Doctor Will Do: Minimally invasive vein treatments are relaxing. You don't need general anesthesia, so you don't have to wait around for treatment to begin. You'll recline in a comfortable position with the treatment area propped in a position the doctor can access.
For surface veins, they'll clean the skin, apply a topical numbing cream, and inject a medication or adhesive. For deeper or larger veins, they'll place a warm gel on your skin and slide a transducer over it to guide them as they send treatment into the vein. Minimally invasive vein treatments typically take less than 30 minutes. Then, the vein doctor will wipe away any gels or creams, and you can immediately go back to your normal routine. 
Where to Book an Appointment with a Vein Clinic in NY
If you're wondering what to expect at a vein clinic, the experience varies depending on the quality of the facility and the provider. So, start by choosing the right vein doctor. They should be board certified in vein medicine or vascular surgery, and they should specialize in minimally invasive vein treatments. While some varicose veins require vascular surgery, most don't. So don't choose vascular surgeons that aren't trained in less invasive methods too.
Also, look for accredited vein clinics, since these have passed a rigorous review of their training and facilities. Vein treatment has changed tremendously in recent decades. Accredited vein clinics with board certified vein doctors are up to date on the latest treatments. Look at the vein clinic's track record. Where did the doctors train? What treatments do they offer? For quick answers, look for your doctor on the ABVLM or ABMS websites, which list doctors who are board certified.
For best results, choose the vein specialists who are renowned in New York City and around the world for cutting-edge vein treatments. These include Dr. Michael Nguyen, Dr. Juan Montoya, Dr. Andrew Cortes, and Dr. Sareh Rajaee. These vein doctors are all board certified in vascular fields, and many hold double or triple certifications. Our vein clinics were named Centers of Excellence, and our vein doctors are award-winning, certified diplomates with a long list of five-star reviews. Visit us in Midtown or the Financial District for state-of-the-art vein care.