Does It Matter What a Vein Specialist Doctor Is Called?
The word "specialist" is unregulated in the medical industry. Some vein specialists studied vein medicine (phlebologists) or vascular surgery (vascular surgeons), so they literally specialize in veins. Other practitioners call themselves vein specialists because they offer cosmetic vein treatments, but they aren't vein doctors. Estheticians, cosmetic surgeons, dermatologists, radiologists, and other professionals provide certain services for superficial veins. But they typically aren't board certified vein doctors.
Book an appointment with certified vein specialists in New York today. Our Harvard-trained vein doctors are experts in venous medicine, which makes a world of difference in vein treatment. Varicose veins, spider veins, vein diseases, venous insufficiency, blood clots, and many other issues require more than surface treatments, but they rarely require surgery.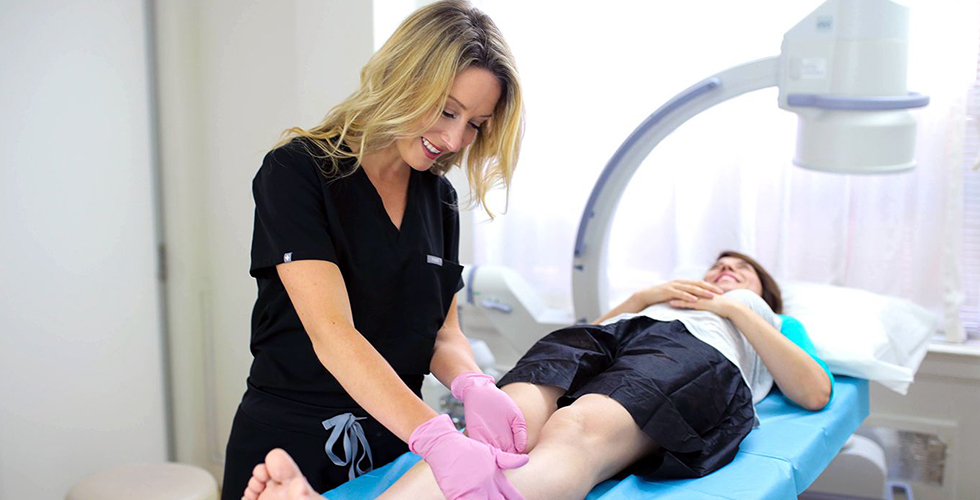 When Is a Vascular Doctor Called a Phlebologist?
A phlebologist is a vein doctor who is board certified by the American Board of Venous and Lymphatic Medicine. These doctors typically provide minimally invasive vein treatments, rather than outdated surgeries. They're trained in ultrasound-guided procedures that simplify vein treatment for the patient. Phlebologists conduct treatments like sclerotherapy, radiofrequency ablation, mechanochemical ablation, endovenous laser therapy, and vein adhesives, all of which are done without general anesthesia or hospitalization.
The insight of a phlebologist is increasingly relevant to a host of medical issues beyond vein disease. New studies show that venous and lymphatic diseases provide clues to solve the puzzles of chronic degenerative diseases like obesity, atherosclerosis, autoimmune diseases, cancer, neurodegeneration, and diabetes, as well as the process of aging. Working with a phlebologist could ultimately improve more than your vascular health.
Which Leg and Vein Doctor Around Me Treats My Vein Problem?
If you have spider veins, varicose veins, Chronic Venous Insufficiency, blood clots, or any vein issues, minimally invasive vein doctors, like phlebologists, are best. Some varicose veins require surgery, but that is increasingly rare. Spider veins can always be treated without surgery. Seek diagnosis and treatment from a minimally invasive vein specialist before seeing a vascular surgeon. Some surgeons aren't trained in the latest varicose vein treatments, so you could undergo unnecessary surgery if you don't consult a phlebologist first.   
Who Are the Top Vein Doctors Near Me in New York?
The top vein doctors near you in NY are Dr. Michael Nguyen, Dr. Caroline Novak, Dr. Juan D. Montoya, and Dr. Sareh Rejaee. Each of these vein experts has Ivy League training and graduated at the top of their class. They hold multiple board certifications and were named "RealSelf Top Doctors" and "Patient's Choice" physicians. They practice from state-of-the-art vein clinics that are accredited by the IAC and hold the title "Center of Excellence."
Which Vein Treatment Clinic Has the Top Vein Experts in NY?
Our vein experts practice from several convenient locations. In Manhattan, we have offices in Midtown and FiDi. On Long Island, you can visit us in West Islip, Jericho, or Hampton Bays. Each of our vein clinics is accredited by the Intersocietal Accreditation Commission and run by esteemed vein specialists with proven track records for success.
What Is the Best Clinic for Varicose Veins vs Spider Veins?
What doctor treats vein problems like spider veins versus vein disease or varicose veins? The best clinic for all types of vein issues is an accredited medical facility staffed by minimally invasive, board certified vein doctors. Skip the surgical and cosmetic clinics and choose vein doctors who use the latest technology to deliver superior results without surgery.
Our endovenous vein procedures eliminate the problem at the source without surgically extracting blood vessels from your body. Whether you have spider veins or varicose veins, the solution is likely non-surgical. Choose our interventional team for advanced spider and varicose vein treatment.
How Soon Should I Get My Varicose Veins Treated?
You should get your spider or varicose veins treated as soon as possible. Vein damage tends to worsen and proliferate over time. Many patients develop symptoms like cramping, swelling, heaviness, restlessness, and itching in their legs. As vein disease progresses, venous ulcerations, venous stasis dermatitis, profuse bleeding, and permanent discoloration are possible. Don't contend with unnecessary complications. Vein treatment is swift and simple at our award-winning vein clinics in New York.
Can I Treat My Blood Pressure or Circulatory System at Home?
Elevated blood pressure in the veins, not the arteries, causes varicose veins and spider veins. So, taking medicine for arterial blood pressure (hypertension) won't fix defective veins. You can try to reduce symptoms by wearing compression stockings, elevating your legs while at rest, and avoiding being sedentary for long periods of time. But home remedies and hypertension medicines won't eliminate faulty veins.
The impetus for vein damage is usually broken valves in deeper veins that require ultrasound guidance to address. Vein doctors must close off these malfunctioning blood vessels and reroute blood into viable veins to relieve excess endovenous blood pressure. They do this with tiny needles, catheters, or fibers inserted through the skin. So, our spider and varicose vein treatments are quick, safe, gentle, and precise. Our vein doctors have a proven track record of effective treatment.
What's the Best Vein Clinic for Prompt Vein Treatment?
If you want prompt vein treatment, the best vein clinic is one with multiple doctors and locations. NYC is a populous city, so having a team of physicians and several office locations increases appointment availability. Our vein experts consult each other on their patients, so when you see one of our doctors, you get the expertise of all of them. Choose our convenient vein clinics in NY for quick relief from all vein issues.