What Do You Call a Doctor Who Specializes in Veins?
The titles "vein specialist" and "vein doctor" are not interchangeable. Some doctors who administer vein treatments are trained in radiology, dermatology, or cosmetic surgery, not vein medicine. Other "specialists" aren't doctors at all, but estheticians who aren't qualified to treat leg veins, varicose veins, or vein disease. The vein specialists with the most knowledge about veins are phlebologists and vascular surgeons.
Phlebologists focus on minimally invasive treatments for spider veins, varicose veins, and Chronic Venous Insufficiency, while vascular surgeons repair larger blood vessels like arteries and complicated varicosities. These doctors are certified by the American Board of Venous and Lymphatic Medicine or the American Board of Medical Specialties.
They completed medical school, in addition to residency programs, fellowships, or training in vein care. They have also passed a comprehensive examination of their knowledge. They provide comprehensive vein care, not just the surface vein treatments other specialists provide. Book an appointment with a doctor who is ABVLM board certified or ABMS board certified in a vascular specialty.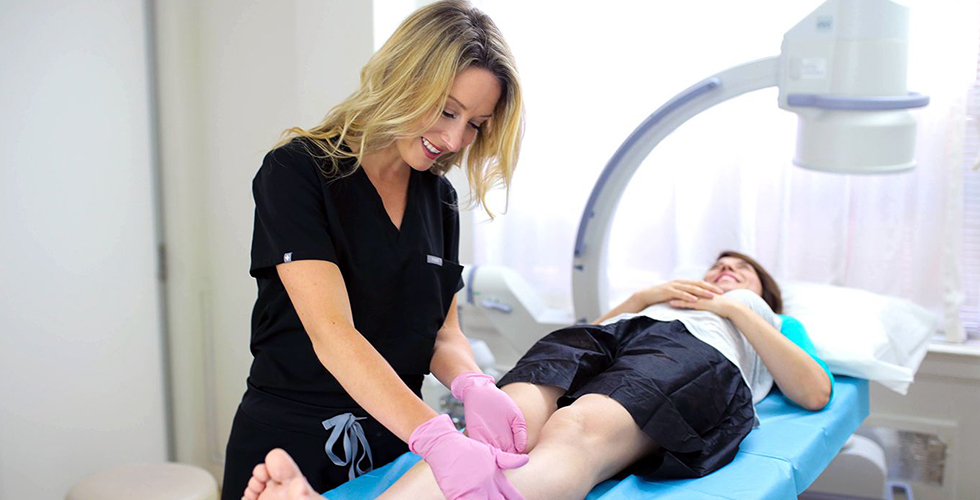 Which Specialist Provides a Vein Consult for Spider Veins?
Spider veins can develop anywhere in the body. The cause varies, and the location is often an indication of the cause. Small, facial spider veins might stem from sun damage or squeezing a pimple. Spider veins in the legs, however, often signify an underlying disease called Chronic Venous Insufficiency (CVI), which starts in deeper veins.
When a valve fails inside a vein, blood flows in reverse, building pressure in the vein. This causes tiny new spider veins to branch out from the overburdened vein. Surface treatments sometimes work for facial spider veins. But spider veins in the legs warrant an analysis of deeper blood vessels to make sure the cause is addressed. Otherwise, treatment won't last, since new spider veins will keep forming. Seek a vein consult from a verified vein clinic, not a cosmetic vein clinic, to make sure your vein treatment lasts.
Which Specialist Treats Varicose Veins in New York?
CVI is also responsible for most varicose veins in the legs. So, if you're looking for a vein specialist who treats varicose veins in New York, make sure to choose a vein doctor. Other specialists lack the training and technology to identify and treat problems in deeper veins. Our Harvard-trained vein doctors in NY use tools like Duplex and Doppler Ultrasound to find broken valves, vein diseases, and blood clots, and provide comprehensive care. Our technology enables us to position treatments precisely on the vein, rather than surgically extracting veins from the body. Choose a minimally invasive vascular doctor for superior varicose vein care.
Which Doctor Is a Vein Disease Specialist Near Me in NY?
As mentioned, both spider and varicose veins frequently stem from vein diseases like Chronic Venous Insufficiency. So, be sure to choose a phlebologist or board certified vein medicine specialist for your care. Cosmetic repairs of veins don't address the root of the problem and don't heal vein disease. Without thorough treatment, patients will experience a continual proliferation of damaged veins, as well as symptoms like heaviness, swelling, cramping, restlessness, itching, and discoloration in the legs.
Left untreated, vein disease can produce venous ulcerations, venous stasis dermatitis, and profuse bleeding, as well as permanent hyperpigmentation. Search for a "vein doctor near me" who knows how to treat vein disease, if you want your vein damage to disappear for good. Chronic Venous Insufficiency is very common, and often undiagnosed, so don't delay your visit to a vein disease specialist. The complications of spider and varicose vein disease can be avoided with interventional care.
Which Vein Physicians Near Me Treat Blood Clots and DVT?
Many patients have blood clots they aren't aware of. While blood clots often resolve without an emergency, some break loose and travel to the lungs. This leads to a potentially fatal situation called pulmonary embolism. If you don't choose a qualified vein specialist, they won't be able to identify blood clots before vein treatment, which could cause a clot to break loose.
In addition, some treatments, like vein surgery, can cause a blood clot, and others can cause air bubbles in the bloodstream when performed incorrectly. What do you call a vein specialist who prevents and treats these issues? Choose a board certified, minimally invasive vein doctor. These vein specialists perform low-risk procedures with tremendous efficacy.
Which Vein Clinics of America Do Free Consultations?
Avoid vein clinics in America and other countries that offer free consultations or treatments. There's a high likelihood they aren't run by vein doctors or using FDA-approved treatments. Instead, look for vein clinics in NY that accept insurance. These clinics provide the most affordable care since insurance covers FDA-approved procedures. Our patients frequently achieve full coverage for their vein treatments, so they get affordable vein care with the safest methods. We file all paperwork on your behalf prior to your appointment, so you know exactly what to expect.
Where Can I Get a Free Varicose Vein Consultation Near Me?
Our vein doctors compiled excellent information about spider and varicose veins, vein diseases, and vein treatments on our website. Take a look around to learn more about your blood vessels. Then book a vein consult at our clinic in Manhattan or FiDi for diagnosis and treatment of your vein issues. Our vein specialists accept all major insurance plans, including Medicare, so most patients have no out-of-pocket cost for their varicose vein consultation.
Where's the Best Varicose Vein Treatment in NYC?
Want to book the "best vein specialist near me?" The top spider and varicose vein treatment in NYC is at our two Centers of Excellence in Manhattan and the Financial District. Visit us in Midtown at 290 Madison Avenue, Suite 202. Call (646) 859-1833 for a Manhattan appointment. Or visit our clinic in the Financial District on the third floor at 156 William Street. Call (917) 456-9755 to book a FiDi appointment. We also have three clinics on Long Island, so our vein doctors are always close by!