Which Vascular Surgeon Near Me Is the Most Qualified?
If you're considering vein surgery, there are several factors to consider. First, who recommended the surgery? If your vein surgery wasn't suggested by a board certified vein doctor who is trained in minimally invasive alternatives, get a second opinion from one who is. Some vascular surgeons focus on surgery for things like peripheral artery disease, ruptured arteries, and aneurysms. But vein doctors focus heavily on vein diseases and defects like valve failure that cause spider veins and varicose veins. For many patients, surgery is not necessary for things like varicose veins.
So, the first question shouldn't be, "Who is the best vein surgeon near me?" but, "Do I actually need vein surgery?" Our award-winning vein center in New York offers several alternatives to traditional phlebectomy, including sclerotherapy, radiofrequency ablation, vein adhesives, and mechanochemical ablation. Click HERE to visit us and learn whether you need vein surgery. If you don't need it, we'll provide less invasive vein treatment options. And if you do, we'll discuss gentler surgical procedures like ambulatory phlebectomy.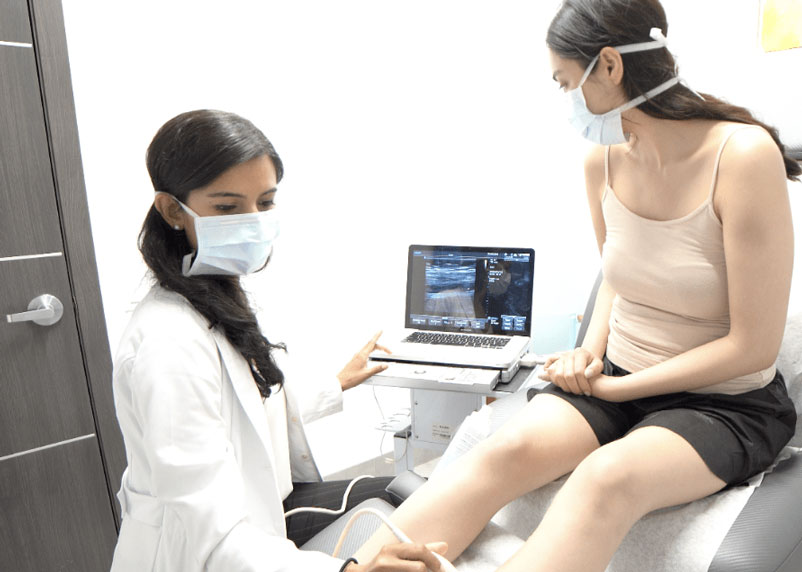 Do All Vein Clinics of America Have Vascular Surgeons?
Some vein clinics in America are run by vascular surgeons. Others are run by minimally invasive vein specialists. And some aren't run by vein doctors at all, but dermatologists, estheticians, or cosmetic surgeons. This is an important distinction, because if you want to avoid unnecessary vein surgery, you need to choose a vein clinic with board certified vein specialists who are trained to identify vein diseases and issues like blood clots, and who are also trained to treat them non-surgically.
Some patients do require vein surgery, especially if they have blood clots, highly enlarged or tortuous veins, or their vein has not responded to other treatments. But the vast majority do not require surgery to treat their veins. So, choose a vein center with a team that includes minimally invasive, interventional vein specialists, like our world-renowned NY vein doctors. Our vein specialists aren't just the best in NYC, but throughout the nation, serving patients from several locations across the country.
Do All Vein Clinics Offer Surgical Varicose Vein Treatment?
If you need vein surgery, it's important to note that not all vein clinics offer surgical options for things like varicose vein treatment. Dermatologists and cosmetic spas tend to only treat issues like spider veins using topical treatments like surface lasers. Many spider veins and most varicose veins stem from an underlying issue called Chronic Venous Insufficiency. This disease involves valve failure in deeper veins that produces the vein damage you see at the surface.
Successful varicose vein treatment often involves treating that causative issue, not just the visible varicose vein. This rarely requires surgery, but it does require a trained vein specialist who can locate the source of your varicosity and treat it properly. Our esteemed vein clinic offers several spider and varicose vein treatment options, and our doctors always check for the root of the problem and repair it, to prevent recurrent varicose veins. Before seeking a "vascular surgeon near me," visit our vein experts to see if we can eliminate varicose veins without surgery. Since we treat the cause, as well as the symptom, our vein treatments are often more effective than vein surgery.
Do Surgical Vein Centers Offer Minimally Invasive Options?
Just as some NY vein clinics don't offer surgery, others don't offer minimally invasive alternatives. Some vascular doctors only specialize in surgery or arterial diseases, while others are trained in newer, more innovative vein techniques. Most vein clinics in America no longer recommend surgery as a first line of treatment, so make sure you choose a vein center with less invasive options and doctors who are experienced with them.
Our vein center is run by Harvard-trained certified diplomates, many of whom are double or triple board certified, and all of whom are certified by the American Board of Venous and Lymphatic Medicine. Our vein center is fully accredited by the Intersocietal Accreditation Commission, signifying the highest standards in physician training and patient care. All of our vein doctors favor non-surgical vein care whenever possible.
We offer a wide range of minimally invasive spider vein treatment and varicose vein treatment methods, including Varithena, ClariVein, VenaSeal, VNUS Closure, ClosureFast, and more. With tiny needles and special catheters, we treat spider veins, varicose veins, and vein diseases like Chronic Venous Insufficiency through the skin, rather than extracting blood vessels from the body. This is much safer, gentler, faster, and more affordable for patients than traditional vein stripping surgery. Most importantly, our treatments are effective for the long term, since we address the cause, not just the visible veins. It's essential to choose the right procedure for you and a qualified vein doctor, not just any minimally invasive option.
How Do I Choose a Centre for Vein Care?
Before you decide on a centre for vein care, determine whether the clinic is accredited and has board certified vein doctors. Also inquire about available treatment options- particularly, whether they prefer minimally invasive ones. Ask about insurance coverage, and choose a clinic like ours that verifies coverage before treatment, so you aren't surprised by the cost. Our state-of-the-art vein clinic works with all major insurance carriers to ensure that treatment is covered completely whenever possible.
The best "vein clinic near me" is the one that checks these important boxes: accredited facility, board certified vein doctors, treatment for vein diseases in addition to surface veins, and vein specialists who are highly trained in minimally invasive alternatives to vein surgery. Whether you are considering vascular surgery, or are simply frustrated by the appearance of spider veins and varicose veins, visit our vein specialists for answers. We'll always take the gentlest route to achieving flawless results.
We have several vein centers throughout the country, including five vein clinics in New York, three clinics in New Jersey, two in California, one in Maryland, and more opening soon. We see patients from all over the nation in our offices, so no matter where you live, your search for a "vein surgeon near me" or "vein clinic near me" ends when you contact us. We look forward to solving your vascular issues soon!