The Best Advanced Vein Treatment & Cosmetic Repairs in NY
If you live in New York, you have the best vein doctors right outside your door. Our team of Ivy-League-trained vein experts offers advanced vein treatment for issues including complicated varicose veins, blood clots, and vein diseases with severe symptoms. We also offer cosmetic repairs for small spider veins and vein damage that doesn't result from underlying disease. Book an appointment with our award-winning vein doctors for exceptional vein care.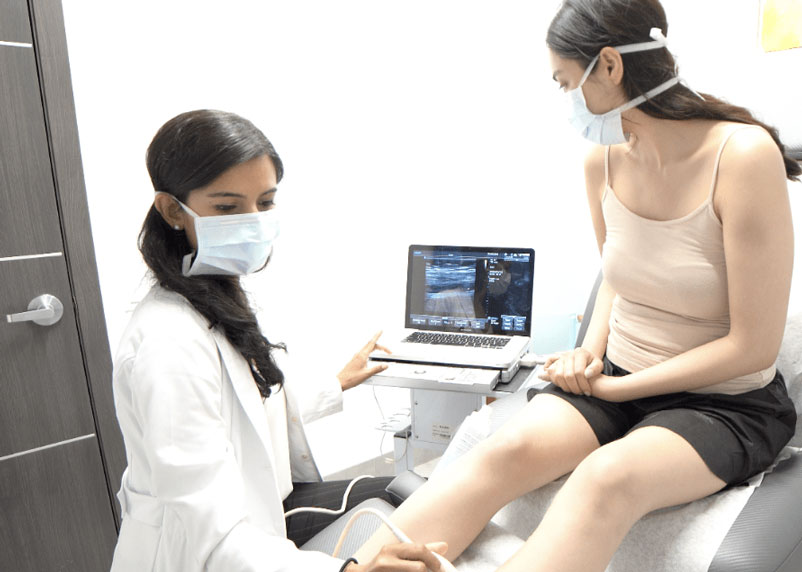 All of our world-renowned vein doctors are either double or triple board certified, and they specialize in minimally invasive vein treatments. If you need surgery, we also have the top cardiovascular surgeons on our team. But we're trained in innovative techniques that prevent surgery for most patients. Here's where you can find us. 
In Manhattan:
290 Madison Avenue, Suite 202, New York, NY 10017 (646) 849-1833
156 William Street, Third Floor, New York, NY 10038 (917) 905-1588
In Hartsdale:
280 North Central Avenue, Suite 450, Hartsdale, NY 10530 (212) 273-16176
On Long Island:
500 Montauk Highway, #G, West Islip, NY 11795 (631) 651-6240
350 Jericho Turnpike, #1A, Jericho, NY 11753 (631) 919-4495
225 West Montauk Highway, #3, Hampton Bays, NY 11946 (917) 540-0161
70 North Country Rd., Suite #201, Port Jefferson, NY 11777 (631) 651-6240
With several convenient locations in New York, it's easy to find exceptional varicose vein treatment near you. But we also have clinics throughout the country, including New Jersey, Maryland, and California. We treat patients from around the world. We often see patients from states including Connecticut, Illinois, Minnesota, Virginia, and Georgia. Read on to learn where there's a clinic near you.
The Best Varicose Vein Treatment Near Me Beyond New York
Why do we recommend that you travel to our vein clinics, even if you don't live right nearby? Because we're leading vein experts who set the standard for state-of-the-art vascular care. Our vein doctors graduated at the top of their class from Ivy League institutions. They hold multiple board certifications. They've received multiple Patient's Choice Awards, and they are RealSelf Top Doctors. Our clinics have also been named Centers of Excellence.
Each of our vein clinics is accredited by the Intersocietal Accreditation Commission. It's a distinction that very few medical centers have. What's even more distinctive is that we're double accredited in both vascular imaging and vascular medicine.
Some vein clinics only offer surface treatments like topical lasers and surface sclerotherapy. Others only perform invasive surgery. But our team is trained in a wide array of treatments for varicose veins, spider veins, and vein disease. We favor minimally invasive treatments. They are more effective than tactics like compression stockings and they don't have the risks, pain, side effects, and expense of surgery.
We accept all major insurance plans including Medicare. Most of our patients receive insurance coverage for treatment, because we use proven, FDA-approved techniques, and we have the ultrasound technology to prove the medical necessity of your treatment. Here are some of the cutting-edge treatments we provide.
Our Minimally Invasive Treatments Options:
Radiofrequency Ablation (VNUS Closure)
Sclerotherapy (Asclera, Varithena)
Endovenous Laser Ablation (VenaCure)
Mechanochemical Ablation (ClariVein)
Vein Adhesives (VenaSeal)
We're caring communicators who love explaining what we do and answering all of our patients' questions. If you're tired of doctors who seem to have one foot out the door during your appointment, come see our compassionate vein specialists. You'll love the experience and the flawless results.
The Closest Chicago Vein Clinic or Lakeshore Veins Clinic
If you live in Chicago near Irving Park Rd. or Lakeshore Dr., you have a lovely view. But you might want to take a scenic ride to The Big Apple to see the best vein doctors in the nation. Amtrak has daily direct train routes from Chicago to NYC. There are also easy driving routes and several flights per day between the two cities. In addition, Chicago residents can visit our Maryland vein clinic with a day's drive or a quick flight. Our team is comprised of the top vascular specialists in the country, so their expertise is worth the trip. 
Closest Vein Clinic to CT & Vein Institute Near Fairfield, CT
If you live in Fairfield, CT, or anywhere in Connecticut, you have excellent varicose vein treatment options nearby. You can visit any of our Long Island, New York City, or New Jersey vein clinics within a short drive. Here are your convenient choices. 
Distance to Our Nearby Vein Clinics from Fairfield, CT:
Port Jefferson: 23 miles
Hartsdale: 33 miles
West Islip: 47 miles
Midtown: 53 miles
Hampton Bays: 53 miles
Jericho: 54 miles
Financial District: 56 miles
Paramus: 56 miles
Clifton: 62 miles
Woodland Park: 64 miles
Scotch Plains: 77 miles
Woodbridge: 79 miles
The Closest Vein Clinic to Washington, DC, MD, DE, and VA
If you live in Washington, DC, we have a vein clinic that's very easy for you to access. Our Bethesda, Maryland, vein clinic is located at 10215 Fernwood Rd., Suite 301, Bethesda, MD 20817. You can make an appointment by calling (240) 913-6583. Our Bethesda office is less than a 10-mile drive from most parts of Washington, DC.
The Closest MN Vein Center for North Oaks Residents
If you live in Minnesota, it's a slightly longer drive to our esteemed vein clinics, but you have multiple options to choose from that are almost equidistant. Our New Jersey, Maryland, and New York vein clinics are all about the same distance from you. Our Long Island and California vein clinics are farther. Depending on your travel availability, any of these are great choices.
Clinic Near Fayetteville, GA, McDonough, GA & Carrollton, GA
If you live in the southeast, like Florida, North Carolina, Georgia, or South Carolina, it's a peaceful drive to our Bethesda, MD vein clinic. Or, you can grab a quick flight to our NY, NJ, CA, or Long Island vein clinics. Each is located near fantastic tourist attractions, so you can take a mini vacation and come back with beautiful, healthy veins!
The Reason to Seek Varicose Vein Treatment Soon
Varicose veins aren't the prettiest blood vessels. But they're rarely just a cosmetic issue. Most of them stem from a vein disease like Chronic Venous Insufficiency or a blood clot. These can't be resolved with surface treatments, and they can produce debilitating symptoms. Our patients who ignored varicose veins for long periods of time tell us they would have treated them sooner if they knew how easy it was.
Our vein treatments are non-surgical and take 15-30 minutes. It's an easy decision when you consider the alternative. Swelling, cramping, heaviness, fatigue, restlessness, pain, heavy bleeding, venous stasis dermatitis, venous ulcerations, hyperpigmentation, blood clots, and more can develop from unattended varicose veins.