How Do You Choose a Long Island Vein Specialist?
When searching for a Long Island vein specialist, start with the doctor's training and certifications. Some vein "specialists" aren't actually doctors, and those who are, aren't always vein doctors. Choose a doctor who is board certified in venous medicine, phlebology, or vascular surgery to provide treatment. For spider veins and the vast majority of varicose veins, surgery is not needed. So, if you choose a vein clinic with vascular surgeons, inquire about whether they're also trained in, and prefer, minimally invasive treatments.
Next, look at the vein treatment clinic's standards. Is it accredited by the IAC? Does it have the latest technology for veins, including ultrasound machines to help vein doctors administer treatment? Varicose vein treatment has changed dramatically over the last 30 years, so choose a vein clinic that follows the current best practices. One clear indication is that they avoid surgical extraction when possible. Click HERE to visit one of our three award-winning vein clinics in Long Island. Our Harvard-trained vein doctors offer state of the art solutions for varicose veins.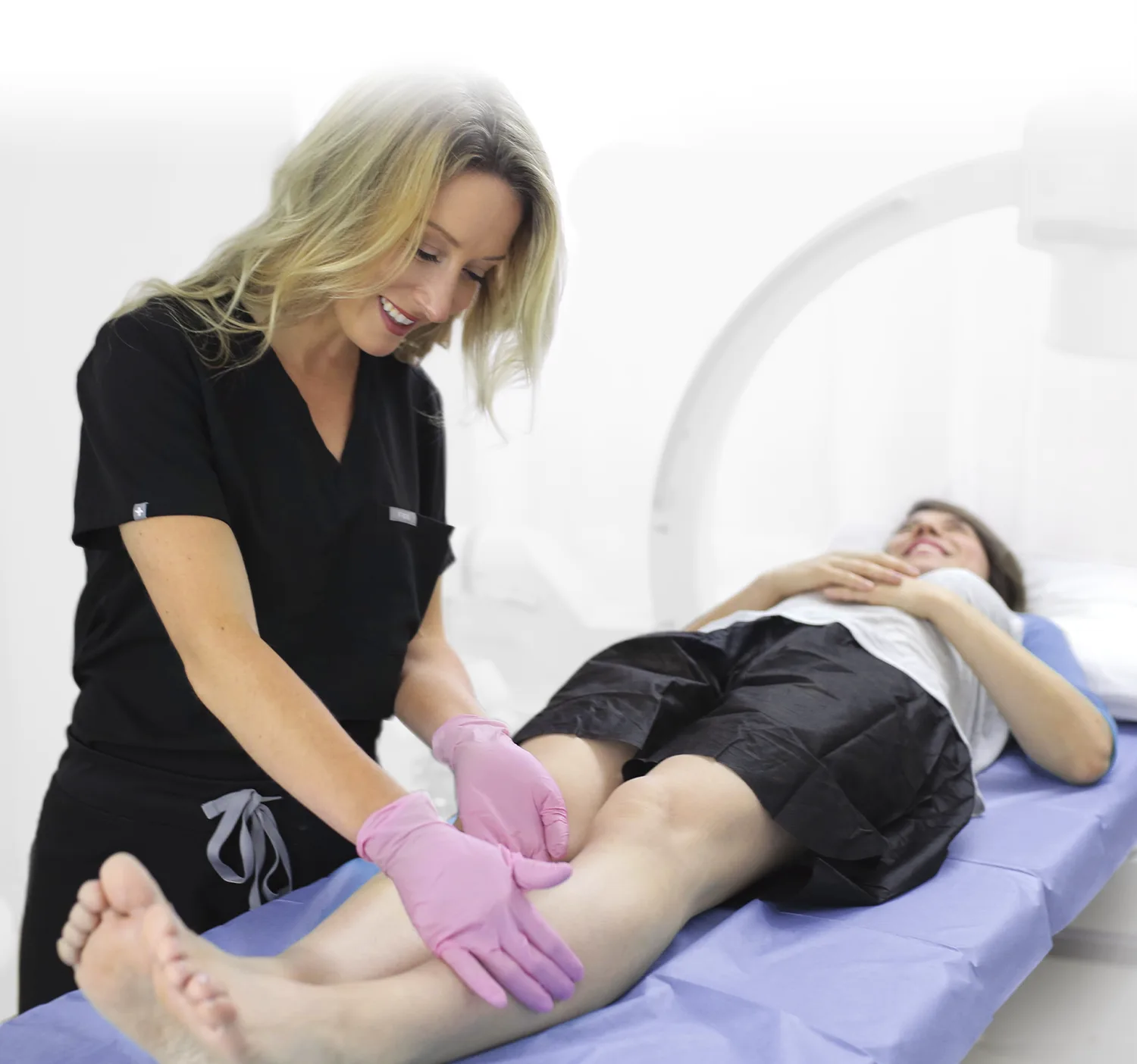 Do All Vein Doctors in Long Island, NY Use Similar Methods?
Vein doctors have different training. Some specialize in surgery, while others are trained in minimally invasive procedures. A few have completed more than one fellowship or certification process, giving them a broader range of expertise. So, some vein clinics prefer surgical treatments like phlebectomy (vein stripping), while others prefer newer, gentler solutions like radiofrequency ablation and sclerotherapy.
Within each category, some doctors have additional preferences, like radiofrequency instead of lasers for ablation. Some prefer foam sclerotherapy, while others are only trained in liquid sclerotherapy. Ask your vein doctor about the full range of options they provide, and make sure they explain why they recommend a treatment for you. Our team of Long Island vein specialists customizes care for every patient and loves explaining treatment plans and why we suggest them.
Does Every NY Vein Clinic Treat Varicose Veins?
It's important to note that not every clinic advertising vein treatment treats varicose veins. Spider veins and varicose veins frequently share the same cause- Chronic Venous Insufficiency. But varicose veins are larger, more protuberant, and sometimes more complicated to treat. Varicose vein treatment for venous insufficiency might include addressing venous ulcerations, venous stasis dermatitis, hyperpigmentation, or profuse bleeding.
Some vein clinics only treat the spider veins that occur on the face, which are often caused by things like sun damage or pressure on the skin. Spider veins and varicose veins in the legs are more commonly caused by valve failure in a deeper vein, and cosmetic vein centers can't treat that. Choose a legitimate vein specialist if you have varicose veins or spider veins in your legs, since the problem is likely more than skin deep. Our clinic offers comprehensive spider and varicose vein treatment in Long Island, NY.
Is Every Vein Treatment Clinic Run by Vein Doctors?
No, not every clinic that offers vein treatment is run by vein doctors. Some are staffed by dermatologists, radiologists, estheticians, or other specialists. While these practitioners are qualified to treat certain things with specific procedures, like surface lasers for small spider veins, many are not trained to treat varicose veins, deeper veins, or vein disease.
Since vein diseases like Chronic Venous Insufficiency are the most common cause of spider veins and varicose veins, choose a vein doctor who can treat both the surface damage and the causative disease. In addition, vein doctors are trained in the widest array of methods, including vein adhesives, radiofrequency ablation, sclerotherapy, and mechanochemical ablation, providing safe options for patients with various needs.
Is Spider Vein Treatment in Long Island Minimally Invasive?
Varicose and spider vein treatment in Long Island can be surgically invasive or minimally invasive. Most patients do not need surgery to treat varicose veins, and spider veins almost never require surgery. If you choose a surgical clinic for spider veins or varicosities, the doctors might not be trained in less invasive methods.
Spider veins respond very well to things like sclerotherapy, radiofrequency, and lasers that eliminate damaged veins without cutting them out of your body. Varicose veins are also treated with these methods, as well as vein adhesives and combination tactics like mechanochemical ablation. Choose a vascular vein center that favors less invasive techniques to ensure a quick and easy procedure and recovery.
Are Any of the Top USA Vein Clinics in Valley Stream, NY?
If you're looking for one of the top USA vein clinics, our practice near Valley Stream, NY, is world-renowned. Our vein specialists are all Ivy League-trained and they often train other doctors in our innovative methods. Our team is composed of Certified Diplomates and RealSelf Top Doctors who have earned several awards like Center of Excellence and Patient's Choice.
We consistently receive 5-star reviews across all review platforms, and continually contribute to venous medicine research and publications. If you're searching for a "top varicose vein center near me," you can't make a better choice than our Long Island vein clinics. With three locations on Long Island, expert care is right outside your door. Schedule a consultation at our Hampton Bays, Jericho, or West Islip vein clinic today!
Who Is the Best Vein Doctor on Long Island?
If you're considering varicose or spider veins treatment, it's important to choose a qualified vein doctor. The best ones will analyze your medical history, venous anatomy, symptoms, and concerns, and create a plan specifically for you. Our team of caring vein specialists is highly experienced and trained in versatile techniques that ensure the patient has a pleasant treatment experience.
We explain all of your options and even combine treatment options if needed for a flawless finish. Our vein clinic accepts most major insurance plans and guarantees coverage before treatment. Read about our remarkable NY vein doctors HERE, and choose us for expert varicose vein treatment in Long Island, NY.