1. Determine Why You're Seeking a Centre for Vein Care
Some people search for a "vein clinic near me" or "vein doctor near me" because they have varicose veins bulging in their legs. Others want to erase spider veins in their face. Some have a chronic vein disease that impairs their daily life. Consider why you're seeking a centre for vein care before selecting a vein treatment clinic.
While some facial vein damage is caused by surface injuries and can be treated with topical lasers, damaged leg veins typically stem from issues in deeper veins and require endovenous procedures for full resolution. If you have chronic venous insufficiency, care might involve treating symptoms like leg pain, swelling, hyperpigmentation, and venous stasis dermatitis, in addition to visible veins. Click HERE to see a vein doctor who's qualified to address all of your venous issues, not just the surface damage.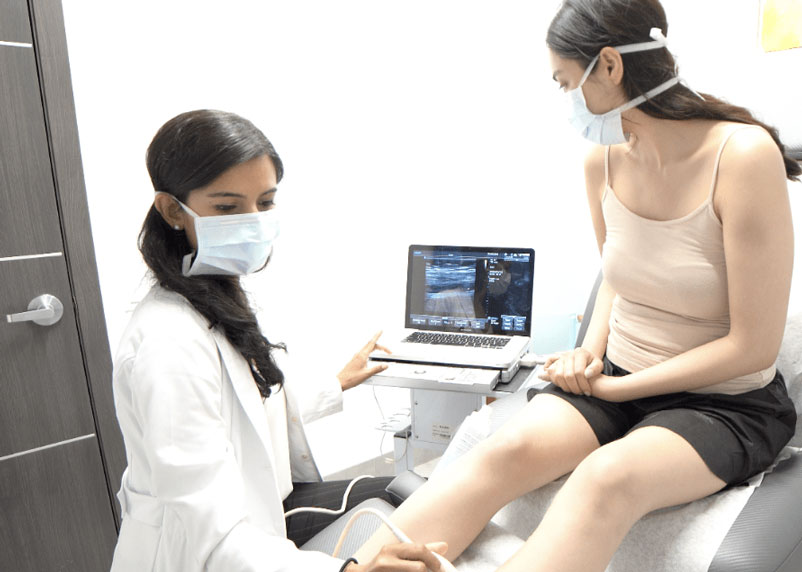 2. Look for an Accredited Leg Vein Clinic
Only a select few leg vein clinics in the USA are fully accredited. The Intersocietal Accreditation Commission awards the gold standard of approval to exceptional vein treatment clinics that provide the best care practices, highest standards of cleanliness, latest treatment methods, and vein doctors with a proven track record and depth of experience. When you choose an IAC accredited leg vein clinic, your level of care improves dramatically, and your outcome and risk profiles are highly favorable.
3. Learn Variances in USA Vein Clinics in Valley Stream, NY
In the USA, vein clinics in Valley Stream, NY and San Diego, CA use different treatment modalities and hire different types of vein specialists. They don't all provide the same high-level care as our award-winning vein centers. Some vein clinics in the USA aren't staffed by actual vein doctors, and some "vein specialists" do not hold a medical degree. There are some centers that are run by estheticians, dermatologists, or plastic surgeons who only perform cosmetic repair of spider veins.
In contrast, a doctor who studied vein medicine understands the intricacies of the vascular system and possesses the proper technology to address issues like Chronic Venous Insufficiency, varicose veins, blood clots, and deep vein thrombosis. They also know how to look for issues in deeper veins that might produce problems like pulmonary embolisms or the ongoing development of spider veins and varicose veins. Learn which treatment methods and capabilities the vein clinic possesses before booking your appointment.
4. Choose a Medical Vein Clinic of Southern California or NYC
Be sure to choose a medical vein clinic in Southern California or New York City, rather than a cosmetic vein center. Leg veins, in particular, typically stem from vein disease or valve failure in deeper veins that can't be repaired with surface treatments. You want a vein center that's fully equipped with the latest treatment options including sclerotherapy, vein adhesives, radiofrequency ablation, and mechanochemical ablation, in addition to less invasive surgical procedures like ambulatory phlebectomy, should you need it. Avoid vein centers that only perform surgery, or conversely, only perform cosmetic repairs. Most vein damage requires minimally invasive, endovenous treatment.
5. Know the Training of a Vein Specialist in California or NY
As mentioned, not everyone who refers to themselves as a vein specialist is a doctor of venous medicine. Some are dermatologists, cosmetic surgeons, vascular surgeons, or estheticians. Training makes a significant difference in the type of treatments offered at a vein clinic, as well as the level of expertise the specialist has with venous anatomy and vein diseases. Learn what your vein specialist studied and what their certifications are.
It is not required to be board certified to practice medicine, so look for a vein doctor who voluntarily completed that certification process if you want superior care. All of our vein specialists are board certified vein doctors, many of whom are certified in additional specialties, providing more comprehensive care than you'll find in other California or New York City vein centers and clinics. Our physicians are fellowship trained at Ivy League institutions and regarded as verified experts in their field.
6. Communicate with Your NYC or San Diego Vein Specialists
Before you agree to vein treatment, inquire about the best way to communicate with your vein doctor. The goal is to find NYC or San Diego vein specialists who make themselves accessible to patients, particularly if you have vein disease and might require more than one vein treatment session.
Our caring team loves explaining vein issues, vein treatments, and lifestyle suggestions to our patients to maximize their vascular health. We offer several treatment options and also customize treatment plans, combining procedures if needed, for a flawless finish. We love following up without patients to ensure that they're pleased with their results.
7. Understand the Range of Vein Clinics of America Prices
Vein clinics in America have a wide range of prices, since some vein clinics aren't accredited medical facilities that partner with insurance providers. If you choose a vein specialist who is not a vein doctor, there's a higher likelihood that they only provide cosmetic, or elective, vein treatments. Our certified diplomates offer several affordable options that are approved by the FDA and we accept all major insurance carriers. This means that, for many patients, there are no out-of-pocket costs whatsoever.
8. Ask If You Need Varicose Vein Removal in San Diego or NY
Some vein centers are operated by vascular surgeons who primarily perform traditional phlebectomy, or vein stripping surgery, to remove the varicosity. But if you have a varicose vein, removal is no longer the first line of treatment. Cutting-edge procedures enable vein doctors to treat varicose veins within the body, using endovenous radiofrequency, sclerosing agents, rotating catheters, or vein adhesives that close the vein, rather than cutting it out of the body under anesthesia.
9. Get Second Opinion on Surgical Vein Treatment in San Diego
Before agreeing to surgical varicose vein removal in San Diego or NYC, visit our vein doctors to see if a less invasive varicose vein treatment will work. If you do require surgery, newer techniques, like ambulatory phlebectomy, reduce the invasive tactics of surgery and allow the patient to remain awake and be mobile after the procedure. Some vein specialists aren't trained in gentler surgical methods, so seek a second opinion at one of our USA vein clinics in NY, CA, NJ or MD before undergoing vein surgery.
10. Pick a Minimally Invasive Vein Treatment Clinic
Choose a minimally invasive vein treatment clinic to avoid unnecessary vein surgery or treatment that fails because the underlying cause was ignored. Our state of the art vein clinic is equipped with duplex ultrasound technology that allows our doctors to find the source of the problem, and also to position treatment devices precisely and monitor treatment as it moves through your vein. This provides a painless and efficient way to relieve varicose veins, spider veins, and vein disease, without general anesthesia, large incisions, or hospitalization.
Minimally invasive vein treatment clinics offer the latest treatment methods and doctors who use the gentlest method possible to restore your vascular health. If you're looking for the best "vein clinic near me" or "vein doctor near me," we have several New York City vein centers and multiple clinics in California, Maryland, and New Jersey as well. Choose our renowned vein experts for unparalleled vein care!